Location: The Playful Soul
Address: 6516 Ferguson Street, The Playful Soul
Contact: kaiti@theplayfulsoul.com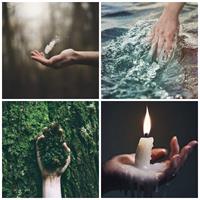 The Playful Soul
October 13th
3-5:30pm
Elemental Chirology: Elemental Healing in the Hands
w/ Yale Bowman of Relevant Readings
Going beyond traditional palmistry, in this workshop we will explore an introduction to the powerful healing practice of Five-Element Chirology.
Together, we will discuss the therapeutic value of the deep, healing information which can be uncovered in our hands. We will learn to identify the five elements through the shape, finger lengths, glyph patterns, and the lines of each hand.
Through our hands, the window to our soul, we will delve into the patterns that structure past and present lives, learning the techniques to identify and discuss them in an effort to promote deep personal and spiritual healing, fulfillment, awareness, and well-being in the lives of ourselves and others.
We will also discuss how the practice of Elemental Chirology can strengthen the holistic, therapeutic, and other healing practices you are currently offering to the world.
This workshop is open to people of all experience levels.
Preregistration Cost: S50
Door Price: $60